Welcome to the MWOTRC!
---
Upcoming Meetings:
Our July 12 program will be Club member Brian Belinger who will speak on "A History of Shortwave Broadcasting", the history of shortwave radio broadcasting from its earliest days to the modern era.
For our August,9 program: "Have you ever listened to the residents of Allen's Alley and thought you could be one of them? Have you a yen to ape Ajax, copy Claghorn, mimic Moody or emulate Mrs. Nussbaum? Or maybe you'd like to pose as Portland or take on the role of the master himself: fearless Fred Allen. Well now's your chance! Club President Michael Hayde will bring scripts for three trips down Allen's Alley, from broadcasts that are NOT in circulation, with hopes of having three different casts of members play the parts!"
Our September meeting will be held at MANC on Saturday, September, 14. The MWOTRC will salute the 70th Anniversary of DRAGNET with a half-hour presentation on the life and career of JACK WEBB, followed by a dramatization of one of the most highly-sought "lost" DRAGNET episodes: "The Big Cop." There'll also be an old-time radio quiz with prizes!"
---
Meeting schedule: Regular meetings are held at Trinity Episcopal Church, Columbia Pike and Wayne Street, Arlington VA.(Please see map below.)
We meet at 7:30 PM on the second Friday evening of every month, except June and December, when we meet Saturday noon at a local restaurant (location TBA). In September, we hold our meeting at the Mid Atlantic Nostalgia Convention (MANC) in Hunt Valley, Md. See our Links page for MANC details.
If you live in the Washington DC area or are planning a visit, why not attend one of our meetings? Members, guests, and the general public are invited to all meetings, which include various demonstrations and presentations.
Please browse through our site to learn more about us, or contact us for more information.
Click the map below for a Google map and directions.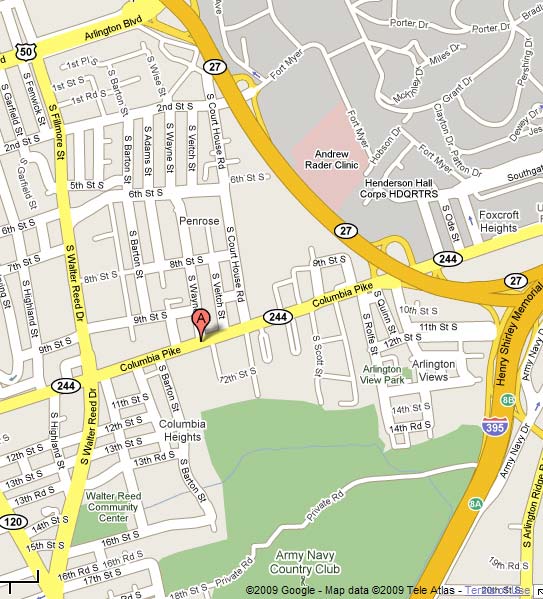 ---
BE SURE TO VISIT OUR LINKS Page from time to time.You'll find interesting web sites like this one, Old Time Radio Themes - a great resource for the music themes of those old favorite shows.