Welcome to the MWOTRC!
---
NOTICE
The MWOTRC will follow all local and federal government directives regarding public gatherings and will announce meeting cancellations in as timely a manner as possible. Please check back frequently for status updates.
Upcoming Meetings
As you all know, given the continuing presence of the Covid-19 virus, we cannot gather for in-person meetings. However, we CAN assemble for remote meetings using Zoom. We have had several successfull and informative meetings in the past few months, and we will continure to use Zoom for the forseeable future. For the upcoming months, our Zoom meetings will be:

February - Jack French will give a presentation on Radio Quiz Shows
March - John Abbott will give a presentation on the life and career of Bob Bailey
During the week prior to each meeting, club members will receive an email with the Zoom program information. If you are NOT receiving these emails, please check your email program to make sure that the messages are not being flagged as "Spam". If you do not see any spam messages, email "membership@mwotrc.com" so that we can verify that your email is recorded properly.
If you wish to enjoy previous MWOTRC meetings, be sure to subscribe to the MWOTRC YouTube channel:
MWOTRC YouTube channel
You can also follow us on our Facebook page.
Stay healthy, and hopefully we'll see each other again soon!
Sincerely,
Michael J. Hayde
President, MWOTRC.
---
Meeting schedule: Regular meetings are held at Trinity Episcopal Church, Columbia Pike and Wayne Street, Arlington VA.(Please see map below.)
We meet at 7:30 PM on the second Friday evening of every month, except June and December, when we meet Saturday noon at a local restaurant (location TBA). In September, we hold our meeting at the Mid Atlantic Nostalgia Convention (MANC) in Hunt Valley, Md. See our Links page for MANC details.
If you live in the Washington DC area or are planning a visit, why not attend one of our meetings? Members, guests, and the general public are invited to all meetings, which include various demonstrations and presentations.
Please browse through our site to learn more about us, or contact us for more information.
Click the map below for a Google map and directions.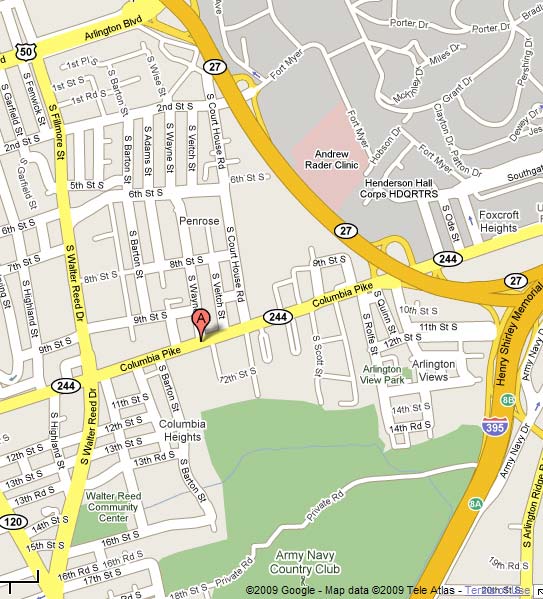 ---
BE SURE TO VISIT OUR LINKS Page from time to time.You'll find interesting web sites like this one, Old Time Radio Themes - a great resource for the music themes of those old favorite shows.