Welcome to the MWOTRC!
---
Upcoming Meetings:
Our February 8 meeting will be club member Don Klees who will discuss and show his video on Yours Truly, Johnny Dollar.
Our March 8 meeting will be club member Rob Farr, who will present "Stars of the Silents Speak!" Just like movie stars of the 1930s-50s, silent film stars such as Mary Pickford, Charlie Chaplin, Lillian Gish and Harold Lloyd made forays into radio. Often these were just single appearances, but in other cases it helped keep them in the public eye long after their motion picture careers ended. This program will offer a sampling of the often overlooked radio careers of the biggest silent stars.
---
Meeting schedule: Regular meetings are held at Trinity Episcopal Church, Columbia Pike and Wayne Street, Arlington VA.(Please see map below.)
We meet at 7:30 PM on the second Friday evening of every month, except June and December, when we meet Saturday noon at a local restaurant (location TBA). In September, we hold our meeting at the Mid Atlantic Nostalgia Convention (MANC) in Hunt Valley, Md. See our Links page for MANC details.
If you live in the Washington DC area or are planning a visit, why not attend one of our meetings? Members, guests, and the general public are invited to all meetings, which include various demonstrations and presentations.
Please browse through our site to learn more about us, or contact us for more information.
Click the map below for a Google map and directions.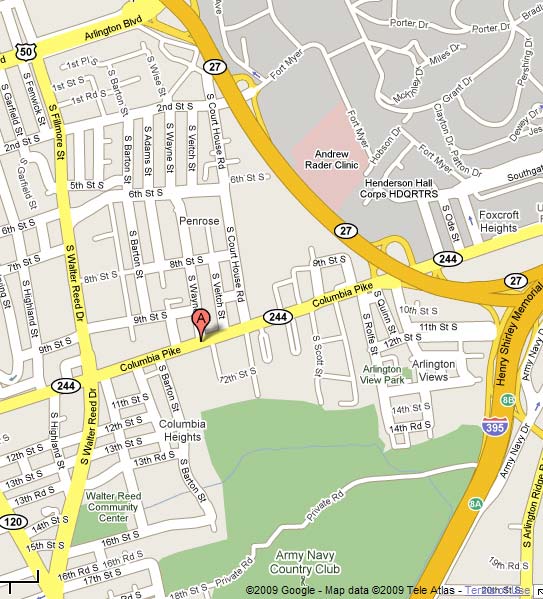 ---
BE SURE TO VISIT OUR LINKS Page from time to time.You'll find interesting web sites like this one, Old Time Radio Themes - a great resource for the music themes of those old favorite shows.