LEGENDARY ORSON WELLES' MERCURY ACTOR TO APPEAR AT MWOTRC AUGUST 13, 2010 MEETING!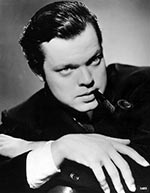 Old Time Radio Star Arthur Anderson is the Real-Life Inspiration for the Novel and Movie "Me and Orson Welles."
AT OUR AUGUST MEETING the Metropolitan Washington Old Time Radio Club welcomes actor and author Arthur Anderson and his wife Alice to its Friday evening August 13, 2010 meeting. Mr. Anderson's 72-year career has taken him from Orson Welles' critically acclaimed 1937 Mercury Theatre Broadway production of "Julius Caesar" to important roles on Radio, Television, and the Stage.
He will make a presentation about his life and career and answer questions from the audience. Following this, Mr. Anderson will sign copies of his new autobiography "An Actor's Odyssey: From Orson Welles to Lucky the Leprechaun" (2010, Bear Manor Media and Amazon.com). The book features an appreciative Forward by actress and comedienne Anne Meara and will be available for sale at $19.95.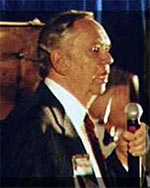 Mr. Anderson is also well known for his work during the Golden Age of Radio including Welles' "The Mercury Theatre on the Air". He starred as Jim Hawkins in "Treasure Island" and was featured in "A Christmas Carol" with Lionel Barrymore. Mr. Anderson also appeared on "Let's Pretend" the CBS Radio children's program for 18 years (with time out for military service during World War II). He wrote an engaging history of that show entitled "Let's Pretend and the Golden Age of Radio" (also available from Bear Manor Media and Amazon.com). Mr. Anderson will sign copies of this earlier book as well.
Arthur Anderson will bring an insider's appreciation of the talented individuals with whom he has been associated including: Jerry Orbach, Joseph Cotton, Helen Hayes, Jackie Gleason, Barbara Eden, Vincent Price, and directors such as George S. Kauffman, George Abbot, Peter Brook, and Woody Allen.
Along with his many Theater, Radio, and Television appearances, Mr. Anderson was doubly fortunate to have originated two iconic television commercial characters. For 29 years he voiced Lucky the Leprechaun for General Mills' Lucky Charms cereal. And for seven years he appeared as Mr. Arthur Kuppenheimer "the Head" of Kuppenheimer's Men's Clothes.
The program will begin at 7:30 p.m., is free, and is open to the public. It will take place in the downstairs Parish Hall of Trinity Episcopal Church located at 2217 Columbia Pike, Arlington, VA 22204. The Church is at the corner of Columbia Pike and South Wayne Street.
Please tell your friends about this very rare visit by one of the few remaining working Mercury Theatre actors and OTR Great! We look forward to seeing you!