Buddy Belote interviewed at MWOTRC meeting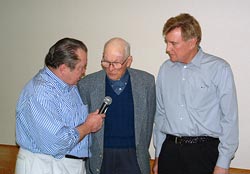 Buddy Belote was the guest speaker at our monthly meeting on February 11, 2005. He is flanked here by Lee Shephard and MWOTRC president Chuck Langdon.

Buddy was born in Richmond and raised in the Portsmouth/Norfolk, Virginia area. He grew up listening to his Grandpa's crystal set. One day he put the headset in a frying pan and the family listened to what may have been the first loud speaker. How did it work? Buddy tells the story. He tells many fascinating stories. He was the first to use oxide coated paper tape to broadcast in this county. He worked to bring FM broadcasting into the world. The first station was W3XO. (The X stood for experimental.)

Buddy moved to Washington D.C in 1936 and worked first as a caddie at East Potomac Park. While attending McKinley Technical High School as a music major, Buddy's music director was Dore Walton, Victor Herbert's first cellist. Buddy played double bass with the Department of Agriculture Symphony orchestra where he met his wife-to-be, Florence. In 1945 Buddy enrolled at Capitol Radio Engineer Institute and found a job spinning records at 50 watt radio station WINX, in Washington. It was the very first Washington Post Station. He went on to get his First Class Radio Telephone License.
Then Buddy's broadcast engineering career took off. The Washington Post sold WINX-AM and bought WTOP-AM, and transferred the FM station over to WTOP. Buddy survived two more changes in ownership and call letters working for the Detroit Daily News WDVM and Gannet WUSA. In 1986 after 41 years, 4 months and 28 days in the business, Buddy retired. He has never forgotten that last day at the audio board working "Inside Washington" with Gordon Peterson. It was an emotional experience.
Buddy now organizes a reunion every year for retired broadcast engineers and guests. Buddy Belote is highly respected by his peers. Buddy and Florence celebrated their 55th last June and he still talks about her all the time.

Mark Anderson adds his impressions: "I was intent on watching this old fellow in his funky gray jacket as his eyes sparkled, his gnarled hands flew and his bony fingers twirled the air as he described such various things as tuning an early radio set, or putting together a live broadcast of a symphony orchestra from a church which was still under construction; or how he and fellow engineers experimented with an early relay set-up by beaming signals to Winchester hoping they could bounce them on to Charlottesville and thence to Raleigh or some such place; all by way of the ionosphere, but he made it sound as though it was by way of a twist of a dial and a prayer.

"There were plenty of guys named Sparks in the audience who understood all this; for me it was just wonderful to watch this old fellow who essentially keeps his vitality by forever being in awe of the accomplishments of early radio. His stories conveyed that when these early endeavors worked, he could hardly believe it himself. It was a wonderful encounter; Buddy Belote is living proof that eighty-somethings are a force to be reckoned with."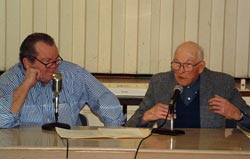 Lee Shephard and Buddy Belote at the main table. (Click either picture for a larger view.)

Lee Shephard began his broadcasting career at age 15 at WGIV in Charlotte, N.C. in 1951. WGIV was one of the first broadcast licenses issued after World War II, and its call letters stood for "We're G.I. Veterans." He joined WTOP radio-TV in 1961 and was heard nationally on CBS radio's "Weekend Dimension," as well as being the voice of the United States Air Force on its worldwide radio series, "Serenade in Blue."

Lee's voice has rarely been absent from the airwaves, somewhere in the United States since 1951. He is currently Vice President of News Broadcast Network and is still voicing news stories and public service announcements on approximately 1,000 stations.

Chuck Langdon, Mark Anderson and Maury Cagle contributed to this story.