---
The Adventures of Captain Daybreak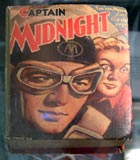 Many of the Joy Boys' recurring bits were based on old-time radio series. "Captain Midnight" was a popular radio show in the 1940s and also appeared in books, comics, and on television. Captain Midnight was the crime-fighting secret identity of cargo pilot Jim "Red" Albright. (Use your favorite search engine to find out more about this popular series.)

On the Joy Boys show, Captain Daybreak was somewhat less effective as a crime-fighter. With his extensive (and not very supporting) cast, he often couldn't start his car or get to a movie on time!




And in the fine "compare and contrast" tradition of English teachers everywhere, here are some of the differences between the Captains:
| | Captain Midnight | Captain Daybreak |
| --- | --- | --- |
| Cast: | Captain Midnight, Chuck, Joyce, Ichabod, and Patsy. | Captain Daybreak, Chuck, Joyce, Ichabod, Baby LeRoy, the Batman, Eddie Leonard, Pepe LeMoko, Uncle Bob, the Program Department from Television, Cub Scout Troup #14 from Rockville, and the night crew from the Pentagon. |
| Sponsor: | Ovaltine. | Circletine, the greatest name in pizza-flavored orange drinks! |
| Secret Decoder Ring: | Yes. | Yes, but messages weren't always useful. Click here for an example! |
Photographs in this story were taken at the Radio History Society Museum.
---
Home | History | Audio | Pictures | Tales | Links | Contact Us