---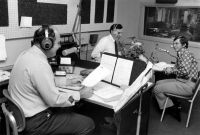 The Joy Boys at WWDC, with Johnny Holliday. This photo is dated October 23 1972, making it the first Joy Boys afternoon drive program on WWDC. Click here to read more about Johnny and the Joy Boys. (Photo by Norman J. Tavan)

---
Smile for the camera! Here are two publicity photos from the WRC Graphics Department, probably taken during the late 1960s.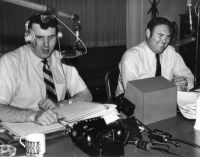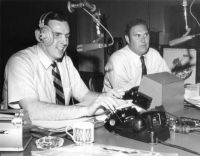 ---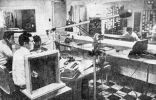 From the Washington Post, May 1 1971: This photo shows Ed's sound-effects door, Willard and Ed on the left, and engineer Mike Berry in the control room on the other side of the soundproof glass. Willard appreciated the engineers, saying when you lay a complete bomb, the engineer plays the music up and saves you. He's Salvation Central! The article mentions that the show is on from 7 to 10 PM and draws about 57,000 listeners weekly. Read more about the WRC studios at The Great 98 web site. (Contributed by Joan Baxter.)

---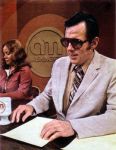 After the Joy Boys left WWDC, Ed Walker co-hosted A.M. Washington, a morning talk show on Washington's ABC affiliate WMAL-TV. The show ran during 1975-76 and followed Good Morning America. Ed and co-host Ruth Hudgins appear in the photo to your right.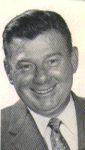 Broadcast legend Arthur Godfrey visited the show in April 1975, and you can hear a clip from that show by clicking here (MP3 file, 549K). This is from our CD #JB125. Compare his voice to Arthur Codfish, which was Willard's version of Godfrey's famous voice. You can click this link (MP3 file, 375K) to hear the story of "Arthur Codfish and the self-rising pie filling" from CD #JB253 in our audio archives.

---

NBC's "Joy Boys," Willard Scott, left, and Ed Walker, right, discuss the radio business with Jerry Strong, a former radio man, as they speak at the Potomac Rotary Club. (Photo from The Sentinel, October 30 1969, contributed by Joan Baxter.)

---

Ed Walker, Sue Harmon, Willard Scott, and Liz Hopwood, in formal attire at WAMU-FM's "Annie" benefit, May 16 1978. (Photo provided by Joan Baxter.)

---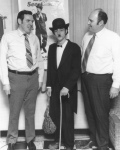 Last month we presented this photo, with Ed, Willard, and an actor playing Charlie Chaplin. The actor turned out to be Bill Starks, who writes:
The black and white photo, I think is from 1972. I was still in high school, and was working for the Roth Theatre chain at the time. Chaplin's film, "Modern Times" had been re-released in theatres, that was the occasion of my visit. The picture was taken by the regional manager for the theatre chain -- he was the promotional genius who dreamed up the idea of having a kid dressed up as a silent movie star, interviewed on radio.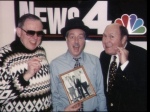 After the photo was taken, Bill got a job at NBC, working with Willard and Ed. This color photo was taken by Walt Starling.

---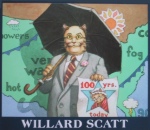 Here's a clever takeoff on Willard's TV work. Weather cat Willard Scatt predicts the rain and celebrates a 100-year-old feline fan. (That's about 20 in cat years.)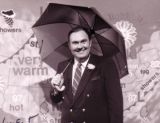 The cat picture was printed on a tin sign we purchased from eBay, but seems to have originated in a book called The Cat Hall of Fame: Imaginary Portraits and Profiles of the World's Most Famous Felines. According to the Barnes and Noble web site, the book also contains portraits of William Shakespurr, David Litterman, Pablo Picatso, Chairman Meow, General George C. Catton, Liza Mewnelli, Cats Domino, and many more.

---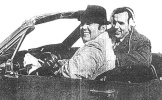 In 1974 the Joy Boys, with the help of John Hickman and Robert Parish, sold their comedy bits in syndication to several radio stations including WETT in Ocean City, Maryland. This photo came from one of the syndication brochures. (Thanks to Suzanne Adamko at the Library of American Broadcasting, University of Maryland.)

---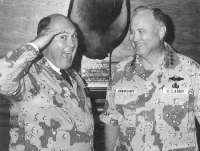 Willard Scott meets General Norman Schwarzkopf. This photo is obviously from the 1991 Persian Gulf War era, during Operation Desert Storm. Judging by the smiles, it was taken after the struggle was clearly going our way.

---
Two small photos of Ed and Willard, hard at work in their WRC studio. In the right-hand picture, Ed is opening the sound-effects door. Many of the character voices "entered" and "exited" through this door. (You can click on that picture for a larger view.) Click here (MP3, 154K) to listen as Ed tells about the sound-effects door. (This clip is part of our CD #JB115.)
---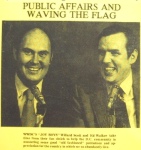 The Joy Boys appeared on the cover of Programmer's Digest magazine in 1973. Click here or on the photo, to read more about the publication and see some larger pictures from this edition.

---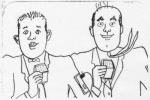 Howard Reynolds sent us a copy of his Joy Boys Fan Club Card. You can also see the flip side of the card, and read Howard's letter, by clicking here.

---

What would this site be, without one of the all-time great Willard Scott portraits? This publicity shot has had very wide distribution, with most copies personally autographed by Willard. You can often find copies of this photo on eBay.

---
In 1974, Ed Walker was interviewed at the University of Maryland, and this photo was taken during the interview. You can read the complete interview by clicking here.

---
This photo of Willard comes from two of our visitors. Click here to read the story behind this picture, or click on the photo to see a larger view.
Since this was taken after WRC dropped the Joy Boys show, perhaps "get stuffed" had several meanings?...

---
One of the advantages of packing and moving, is that you get to look at all the stuff under the stairs. That's how I found this 7", 33 RPM record, which was released to radio stations in 1971, with eight Red Cross public service announcements (PSAs). Three of these PSAs feature the Joy Boys in a rare stereo recording. The bottom is signed by Willard and Ed.



These PSAs are now on our CD