---
| | |
| --- | --- |
| | When were they on WRC? How about WWDC? And when did Willard start doing those 100-year-old birthdays? We've had several requests for a timeline of the Joy Boys. So here it is, a complete history of Willard Scott and Ed Walker, organized by year. Click here for the whole story. |
| | |
| --- | --- |
| | From the American University Report, Jan/Feb 1973, and an article entitled Walker and Scott and the Great Electron Chase: Before they even knew each other, the Joy Boys were chasing electrons. "When we were eight or nine years old, each of us had a miniature radio station in the basement," Ed Walker recalled. "Just a little thing -- the kind you could hear down the street. "From a basement studio, the only way to go is up," Willard Scott said. The article goes on to describe how Ed and Willard met at American University and formed the Joy Boys team. This photo was taken in the WWDC studio. (Story and photo by Judy Gillies.) |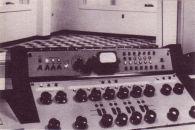 Here's a look behind the scenes of WRC radio (and TV) shortly after the 4001 Nebraska Avenue building was put into service in 1958. Click here or on the picture to read more.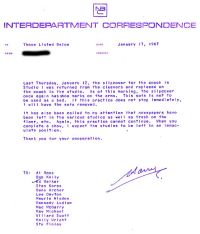 Memos from management are a necessary evil in most organizations, but at WRC, some of the memos were fairly silly. This one for example, tells the announcers not to put their feet up on the sofa. (Click the image to read the whole memo, or click here for a text version.) Willard tells us, After this memo came out, there was one announcer who put more than his feet on the sofa! But that's another story...
The Joy Boys took the idea of silly memos and created a regular feature of their show, cleverly called Memos From Management. Listen to one of the segments here, in this clip (MP3 file, 317K) from our latest CD #JB126.


Remember the Eddie Leonard Sandwich Shops jingle? Sure you do... and if not, here's your chance to get that jingle stuck in your head! Click here or on the picture to get the whole story.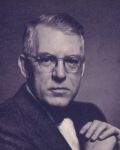 Bryson Rash kept his cool for many years, delivering the WRC news with complete professionalism. But even this newsman had to take his turn being the object of Joy Boys humor. Click here or on the picture to read about his election as president of the National Press Club, and the festivities that followed.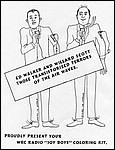 This special feature is a 12-page Joy Boys Coloring Book, provided by Timmi Pierce. Click here or on the picture, to start your journey through this bit of radio contest history.


Many Joy Boys listeners will remember a silly record called the Foot Foot Song, performed by Ray Bolger.

Bolger (pictured right) is best known as the Scarecrow in the Wizard Of Oz. Ed Walker says Willard liked the song, but I never did, and I think he played it just to annoy me. In any case, a visitor to this site has donated a recording of the Foot Foot Song to our collection, and you can hear a clip from it by clicking on this link. The song came to us on a Canadian 78 RPM record, dated 1951.


This article in TV Radio Mirror appeared in October 1964. The magazine was similar to Entertainment Weekly and covered television, radio, movies, records, and of course, the latest celebrity gossip.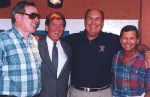 Another Washington DC legend, Johnny Holliday, poses with Ed and Willard. Click here to read about Johnny's new book, and listen to some audio clips of Johnny and the Joy Boys on WRC, WWDC, and WMAL radio.

| | |
| --- | --- |
| | In 1973 the Joy Boys offered their comedy bits to radio stations in other cities. We have part of their syndication demo reel on our CD #JB117. And you can click on the images to your left, to view the promotional flyer which was sent out to radio stations. |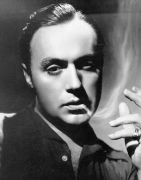 One of our favorite Joy Boys characters, "Charles the lover," was inspired by French actor Charles Boyer. Read more about the actor and the character by clicking here.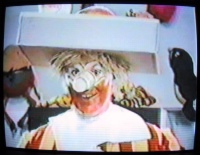 Ronald McDonald was created by Willard Scott in 1963. Read more about Willard, Bozo the Clown, and Ronald McDonald, and listen to three McDonald's commercials from that year.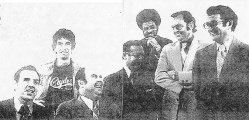 This article entitled DC Comedians appeared in Potomac Magazine, in the summer of 1972. In the photo to your right, Walker and Scott are pictured along with other DC area favorites Harden and Weaver, and political comedian Mark Russell.

Programmer's Digest Magazine provided printed and audio material aimed at radio professionals. The Joy Boys appeared in this issue dated December 3, 1973.

Folk singer Pick Temple visited the Joy Boys show in April 1967, to remember the last ride of legendary railroad engineer Casey Jones. We have the entire interview on our new CD #JB115. Selections are available here for on-line listening.
This 1974 interview with Ed Walker gives a very detailed and extensive insight into Ed's life and work in radio. It's actually more of an autobiography, taking us all the way from his first wind-up record player to the days at WWDC.


This audio clip of Carroll James and Bob Raleigh (MP3 file, 239K) was recorded in 1994 when WXTR (Xtra 104) had their Big Daddies of Washington Radio weekend. They brought in all the jocks from the '60s & 70s... Harv Moore, Bob Raleigh, Jack Alix, Barry Richards, Marv Brooks, Brother Love and more. The first voice on the clip is Carroll, remembering how he worked with Ed and Willard at WRC radio in 1955. Then you'll hear Bob Raleigh (who worked at WPGC, then WWDC). Bob was on opposite The Joy Boys, and talks about how they used to make fun of him. Carroll James became a legend in the DC area. He was the first DJ in America to play a Beatles record, and the Fab Four appeared on his show when they first played DC in '64. Click the photo to see Carroll James with the Beatles. (Thanks to Skip McCloskey for contributing this story.)
The Two At One show was the Walker and Scott show on WRC, before it was called the Joy Boys. Click above to read more about Two At One and listen to some of the earliest known Joy Boys audio clips.

Willard Scott often "threw it" to Charlie Nemo, for a remote broadcast from the Club Sandwich. And there really is a Club Sandwich (in Atlanta anyway). Click on the sign for a larger sandwich, if you're hungry... then listen here to a Joy Boys remote broadcast (MP3 file, 362K) from the Club Sandwich as it sounded in 1961. This is a new clip, taken from our disc #JB233. And, you can click here to learn more about Charlie Nemo from our visitors.

The Joy Boys theme music is part of the Billboard March, written 100 years ago. Hear Ed, Willard, and even Burl Ives, sing the Joy Boys theme!

One A Day Radio was a six-minute version of the Joy Boys show. The show usually consisted of an opening bit, theme, one comedy routine, and the ending theme. These aired in about 1962 or 1963. You can hear a complete One A Day Radio show here (MP3 file, 718K), and find more One A Day Radio shows on our CD #JB112.


Willard Scott's 1982 book The Joy Of Living tells his life story with typical down-home Willard style. Chapter 8, "The Joy Boys, or Lessons in How to Be a Sidekick," describes Willard's instant and lasting friendship with Ed. Published by Coward, McCann, and Geoghegan, it's currently out of print, but you can find a copy on various auction sites such as ebay.com or amazon.com. Or, check your local used bookstore.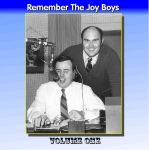 American University radio station WAMU, with the help of Ed, Willard, and this web site, produced a special CD to support WAMU's spring 2001 pledge drive. This CD includes Ed and Willard discussing the history of the show, how they met, and the stories behind many of their characters. And of course we included many vintage Joy Boys clips. Click here or on the photo to the right, to read more about the project.


The Joy Boys character Miss Janitor was modeled after a real weather girl on the NBC Monitor weekend show, Miss Monitor. Be sure to visit the rest of the Monitor tribute site as well. And hear Miss Janitor on our discs #JB213 and #JB223.

The Walker and Scott shows on WOR and WRC radio were listed in the newspapers of the day, the Washington Post and Times Herald, and frequently mentioned by their radio-TV writer Lawrence Laurent. Click here or on the picture to read more.

Morgan Beatty was a newsman on WRC and NBC, covering major events including the elections. He had a distinctive voice, which of course prompted the Joy Boys to make it even more distinctive. Click the photo for a larger image, or on the links below to hear some sound bites from the 1960 presidential elections.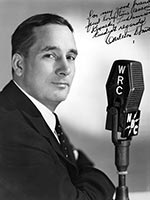 Carleton Smith was WRC's general manager. He hired Willard Scott and then Ed Walker, so we can thank him for bringing the Joy Boys to WRC radio and starting off their 18-year run!

Click the picture for a larger image, or click here to hear Ed and Willard talk about Mr. Smith. This clip is from our first collectable CD, Remember The Joy Boys, Volume One.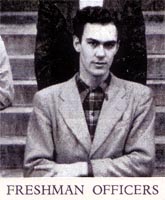 Willard Scott (yes, that's him!) earned recognition very early in life. In 1948 he was Freshman Class President and a member of the Drama Club at George Washington High School, Alexandria VA. Click here or on the picture for all the details.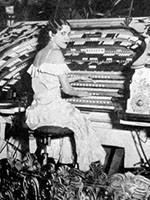 On their "As The Worm Turns" bits, the Joy Boys made up the character Rita Rosa as the organist who provided background music. But in real life, Rosa Rio is a talented musician whose career includes playing the music behind silent movies.

The Joy Boys had an opportunity to perform with Rosa, live at the Virginia Theatre, at a convention of the American Theatre Organ Society in 1971. Click here to listen. (Thanks to Ken LaCapria for this recording.)

For a nice biography of Rosa, visit this page.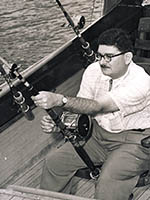 Kennedy Ludlam was WRC radio's hunting and fishing expert. On the Joy Boys show, no expert goes unpunished, so they created "Kennedy Lump-Lump" who dispensed questionable advice on the best times to fish, and the best ways to avoid being chased by a "Kodak" bear. Click here or on the picture to listen to several of Mr. Lump-Lump's reports.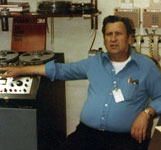 The Joy Boys gave lots of credit to their engineers for keeping the show moving along smoothly. But engineers weren't allowed to speak on the air, so Ed would invent their voices. One of the favorites was George Brewington who was always "brewing" his coffee. Click here or on the picture for more about George.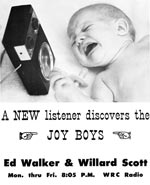 So why is this baby crying?

Did he really dislike the Joy Boys radio show that much?

We finally have the full story.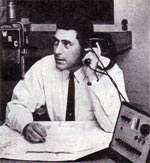 Frank Forrester was the WRC weatherman on radio and television. He was skilled and his forecasts were accurate... so of course he received his share of ribbing from Ed and (soon-to-be weatherman) Willard. Click here or on the picture for the story and sound clips.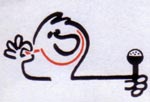 In the early 1970s, WRC started using a new jingle package with the motto of "have a happy day." It caught on so well that the station ended up giving away a full-length version of the song on 45 RPM records, and using it in a variety of promotions. Click here or on the picture for the full story.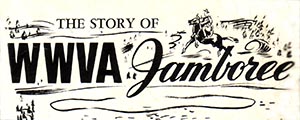 The Joy Boys spoofed late-night country-music radio with their WWPU and WWVO skits, based on the WWVA Jamboree program from Wheeling West Virginia. Click here or on the picture to read more.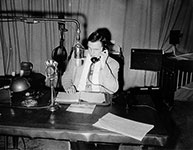 From 1952 to 1958, WRC broadcasts originated from the basement of the Sheraton-Park Hotel. Click here or on the picture for a look at these spacious and comfortable studio facilities.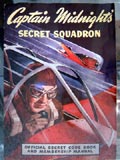 Captain Daybreak was the Joy Boys' spoof of a popular 1940s radio series, Captain Midnight. Click here or on the picture for an extensive literary critique of both shows!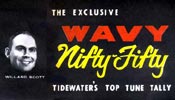 Willard Scott served in the Navy and also on WAVY! Click here or on the picture to see an official, "exclusive" WAVY playlist from 1958.


Willard's talent as a television host was recognized early in his career. Click here or on the picture to read an article from a 1955 issue of TV Guide. This article also mentions the WRC-TV show Afternoon, which featured Jim Henson and the Muppets.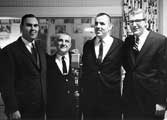 Art Semmig was one of the first engineers on the Joy Boys show. Click here or on the picture to read about his work, including the years at WRC radio with Walker and Scott.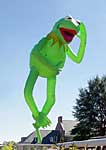 Willard Scott worked with Kermit the Frog, and Jim Henson's other creatures, before they became world-famous. Click here or on the picture to read more about their appearances together on local television in the '50s.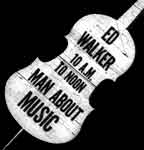 Being a Joy Boy wasn't always a full-time job. This advertisement from September 1962 promotes Ed Walker's midday music show, Man About Music. Ed and Willard each worked various shifts on WRC, including Two At One, and a late-night show called Twilight Tunes. Click here (MP3 file, 147K) to hear the other name Willard called that show!


This charcoal sketch of Ed and Willard has a long story. The original artist is unknown to us, but this copy belonged to WRC engineer Art Semmig around 1960. It was orignally signed by Willard: To my favorite "Art" - love, Willard - great times on the air. After Art's death, his son Bob Semmig gave the sketch to his friend, long-time Joy Boys fan Charles Jekofsky, who writes: While attending GWU, several students and I visited cavernous "Studio One." We sat on the musty old couch and were mesmerized by all the gadgets, gizmos, and the interaction of S&W doing the show. The others were Paul Johnson (now directs Radio Smithsonian), Mel Wahlberg (computer whiz now), Rich Moock (totally lost track of him) and Mike Berry. CJ kept running into Walker and Scott through the years, and both Joy Boys autographed the sketch for him during the 1990's.


Radio-TV critic Lawrence Laurent wrote for the Washington Post and reported on the Joy Boys' careers. Click here or on his picture for more. Laurent also wrote this article from 1955 which describes how Willard Scott got started in radio even before working at WRC/NBC. It concludes there should be a bright future for this 20-year-old with seven years' experience. Wow!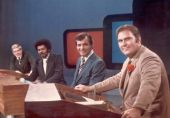 During the Joy Boys era, and before moving to the Today Show, Willard Scott was the WRC-TV weatherman. Click here or on the picture to read more about Willard, Glenn Rinker, Jim Vance, and other members of the news team.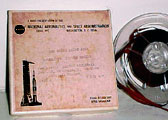 If you were a Joy Boys fan, you probably also remember the excitement of our space program during the 60's and 70's. Willard Scott narrated a series of 5-minute programs for NASA, including this one (MP3 file, 551K) from 1972. It's an early description of the Space Shuttle. We have several others on our new CD #JB135.


Around 1962, WRC released this marketing piece describing the station, its format, and all the personalities. Read about Al Ross, Bob Kelly, Betty Groebli, Mac McGarry, Stan Karas, and of course, Walker and Scott. You can click on the booklet to your right, or click here to start reading the stories.

This Washington Star article describes the WRC format change in 1972 as the station moved to top-40 radio.
WMAL radio's Tom Gauger talks about the days of cooperation and competition with the Joy Boys.
Will Heagy was the Joy Boys sound-effects engineer during the last several years of the show. His timing (and his coffee) made him an important member of the team.
Derringer, the Amazing Mental Pistol, was a character based on Joseph "the Amazing" Dunninger (1892-1975), a popular magician and mentalist in the 1940s and 50s. He performed magic and mind-reading on radio and TV. (A mind-reader? On RADIO? Let's think about that one...) Hear the Joy Boys Derringer skit on track 10 from our disc #JB102. For more about the real Dunninger, use your favorite Web search engine and search for "Dunninger".
AFRTS, the Armed Forces Radio and Television Service, gave the Joy Boys worldwide exposure in the 1950s. Read more about the AFRTS from someone who was there.
---
We're putting together more stories for your enjoyment. If you have a story, news item, or other good piece of Joy Boys history, we'd be happy to include it on this page. Please contact us and we will make arrangements to borrow your materials, and return them to you safely.
In the meantime, be sure to visit our links page for some other sites which tell the history of the Joy Boys!
---
Home | Audio | Video | History | Pictures | Tales | Links | Contact Us