---
The Older the Fiddle, the Better the Tune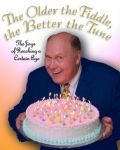 Willard Scott's new book is called The Older the Fiddle, the Better the Tune: The Joys of Reaching a Certain Age. And who could teach us about aging gracefully better than Willard? His broadcasts on NBC's Today Show have honored centenarians for many years.
Willard appeared at the Smithsonian to autograph copies of his new book. See photos of the occasion here.
In his latest book, Willard provides the introduction and sets the stage for nearly a hundred answers to the question: "What are some of the greatest things about getting older?" The answers come from all walks of life, actors, astronauts, and ordinary Americans. Some examples:
If you really don't want to do something, you don't have to. Unless your wife says it's real important. --Yogi Berra

For me, one of the joys of being over 65 is that people have stopped trying to sell me life insurance. --John Updike

Age is just a number. However, in my case it's quite a big number. --Bob Hope
The book's contributors include Ed Asner, Dr. Joyce Brothers, Helen Gurley Brown, Art Buchwald, George Bush, Sr., Bill Cosby, Tony Curtis, Jimmy Dean, Phyllis Diller, Hugh Downs, Peter Graves, Monty Hall, Ed Koch, C. Evertt Koop, Vidal Sassoon, Pete Seeger, Liz Smith, Jerry Stiller, Andy Williams, and many others.
Order your own copy on Amazon.com, or visit your local bookstore.
---
Home | History | Audio | Pictures | Tales | Links | Contact Us