---
Webmaster's visit to Washington DC
Webmaster Bob traveled to Washington DC in 2003 and paid a visit to Eddie, Willard, and friends. (Click any picture for a larger view.)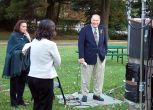 One of the first stops was WRC-TV on Nebraska Avenue. Willard broadcasts his Today Show segments from out in front of the building, twice a week.



Ed and Willard share an office in the new part of the WRC-TV building. This part of the building didn't exist in 1972. The radio studios, including Studio One where the Joy Boys show originated, are still in the basement, although WRC radio no longer exists.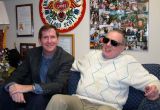 To your right, the webmaster poses with Ed Walker.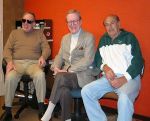 Ed Walker is shown here with Mac McGarry and Aldo Argenteri. Mac was a staff announcer during the Joy Boys era on WRC, and continues to host It's Academic on WRC-TV. Aldo was one of the very first engineers on the Joy Boys show. Click here (MP3 file, 104K) to hear Mac, and Ed's rendition of Aldo.



I also visited the Radio History Society's Radio-TV Museum in Bowie, Maryland, where curator Brian Belanger gave me a guided tour. Here, he holds an early wireless remote control for the floor-standing radio to the left. At least this remote would be hard to misplace!



This museum now houses the famous "Joy Boys door" with other examples of radio sound-effects.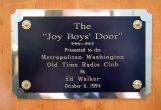 (Notice the coconut shells on the table next to the door. These make a good sound-effect of horses' hooves.) Click here (MP3 file, 154K) to hear Ed describing how the door allowed his characters to enter and exit the studio.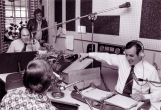 To your left, a picture from the first Joy Boys WWDC show in October 1972, illustrating the Joy Boys' door in action. This is one of many, many photographs I was able to borrow from Joy Boys fans during the trip. Look for more of them on our Pictures page this month, and in the next few months.


---
Home | History | Audio | Pictures | Tales | Links | Contact Us