MWOTRC News from 2003 and 2002
See also: current news; news from 2004; news from 2005
REBECCA JONES WINS 2003 CAWELTI AWARD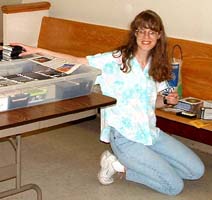 At the conclusion of each year, MWOTRC chooses a recipient of the Stan Cawelti Award. This honor goes to the club member who has truly exemplified the highest standards of dedication, kindness, and friendliness. Rebecca Jones, our popular Audio Librarian, is the deserving winner of the award for 2003. She was given possession of a "traveling plaque" with her name engraved on it, which she retains for one year, and an inscribed silver Jefferson's cup, which is hers to keep. It's obvious why Rebecca finished first in the balloting for this honor. She is a ray of sunshine in her role as Audio Librarian, renting cassettes and CDs to all patrons. Rebecca has assembled a team of volunteers to inventory, archive, and catalogue our expanding archives and all of us are better served because of her generous spirit.
December 2003
The audio library catalog that many of you have been waiting for is now completed and ready for distribution. Since the last catalog came out in 1999, there have been many changes to our collection; the most significant being the addition of nearly 200 CDs. We will now be offering the catalog on CD-ROM as well as traditional paper format. To request a catalog, contact Rebecca Jones, Coordinating Librarian, library@mwotrc.com. Please include your name and address, MWOTRC membership expiration date, and choice of paper or CD-ROM. The paper format is large and expensive to ship, so if you can pick up your catalog at the monthly meeting, please see me there. (The library catalog is only available to MWOTRC members. Join our group!)
November 2003
In connection with the research on my book, I was doing the section on Wendy Warren and the News, a detective/soap opera which CBS newsman Doug Edwards was on (for 11 years). Edwards donated all his paper and other archival materials to St. Bonaventure University in NY, and on their web site, I found some detailed biographical info on Edwards. But it did not mention his long tour on Wendy Warren, so I emailed the writer of the bio, university archivist, Dennis Frank. He was delighted to hear from me, and added my information on that series to their web site. Wendy Warren mention appears in the 9th paragraph of Edwards' bio: http://web.sbu.edu/friedsam/archives/Edwards/biography.html
August 2003
UPCOMING MEETINGS: Here's what we have in store during the next few months...
October 10th: Re-creation of "You Are There" with special guest, Robert Lewis Shayon, who was the Producer-Director of this series in the 1940s.

November 14: The beloved sage of local FM radio, Dennis Owens, is our guest speaker for this fascinating meeting.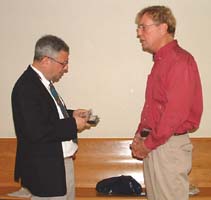 Edgar Russell (left) speaks to co-president Chuck Langdon. Both men write and produce radio plays.

(Both photos provided by Jonathan Orovitz)

GENEROUS DONATION TO CLUB: Ted Davenport, who operates Radio Memories, recently donated 300 OTR shows on cassette to MWOTRC. They are being cataloged and will be included in the rental archives maintained by our Cassette Librarian. We all appreciate Ted's kindness and generosity. The address for Ted's OTR business is P.O. Box 94548, N. Little Rock, AR 72190 or you can go to his web site at www.radiomemories.com and view his wide selection of OTR materials. Incidentally, Ted is one of the few OTR dealers who gives a 10% discount to AARP members.

NEW BOOK OUT ON THE HUMMERTS: McFarland & Company has just released a new softback book entitled "Frank and Anne Hummert's Radio Factory", which was written by MWOTRC member Jim Cox of Louisville, KY. This highly fascinating and enjoyable book tells all about this famous radio couple who not only produced most of the popular soap operas during the Golden Age of Radio, but also many musical shows and adventure programs, including "Mr. Keen, Tracer of Lost Persons", "Jack Armstrong", and "Mr. Chameleon."

SEEKING DAN DUNN: In connection with my upcoming book on radio's lady detectives, I am interested in locating audio copies of "Dan Dunn, Secret Operative" which was a syndicated series in 1937. About four of the 78 episodes has survived; I have one and would like to find the other three. Dunn was an imitation of Dick Tracy and he appeared not only in the comics, but also in two Big Little Books. Please contact Jack French if you can help.
June 2003
We all owe a debt of gratitude to member Elizabeth P. Minney of Quemado, TX. She has just completed indexing five years' worth of RADIO RECALL issues, 1997-2002. It's now available online as well as in printed form.
NEW OFFERINGS FROM OTR DEALERS: Gary & LaDonna Kramer, who operate Great American Radio, have recently added several video offerings of radio stars to their inventory. These TV shows, starring folks we associate with radio, include: Captain Midnight, Suspense, Lum & Abner, Fibber McGee & Molly, Our Miss Brooks, Dick Tracy, Ellery Queen, Inner Sanctum, Sky King, and others. Cost is $12 a tape, with a three tape minimum order. For current catalog, you can email Gary at ga@radio.fm.
Radio Spirits Inc. under the title of "World's Greatest Old Time Radio Shows", has organized the equivalent of a radio "book club". It's a system where you get some to start, and then they send you more unless you instruct them not to. Their initial offering is fairly generous; when you purchase your first two CDs, they give you two more free, plus a sturdy binder to keep them in. You can phone them at 800-606-0709 during normal business hours (EDT) or write them for info at P.O. Box 9214, Central Islip, NY 11722.
And one more: Radio Showcase presents their "going out of business sale" - purchase ten cassettes or CD's and receive another four of equal or lesser value for FREE! For every ten purchased, you get another four at no cost! This goes for any format, including Custom Cassettes. This is a great way to try some new programs you've been thinking about without spending any extra money. This sale is good until July 31, 2003. For information call (707) 525-0825 or email otrsteve@radio-showcase.com.
April 2003
OTR PREMIUMS FEATURED IN CURRENT PUBS - Club member, and prominent OTR author, Jim Harmon of California reports that the current issue of "Alter-Ego Magazine", available in most comic book and specialty stores, there is a short article by him on the Tom Mix radio show and premium comic books It also contains another much longer article on Mix comic books by Bill Harper of NC (he is the former editor of the Straight Arrow fanzine). Thirdly, there is another article by Harmon on Captain Midnight, both on radio and in comics; it is the twenty page lead in the issue. Issue retails for $6.95.

Steven Kallis, Jr. of FL, a regular contributor to RADIO RECALL, advises that his lengthy article on OTR code and crypto devices from many radio shows, including the Captain Midnight series, is in the current issue of "Eye Spy", together with lots of full-color photographs. Although this is a British magazine, it is sold in many stores in the US. Maryland member Fred Fett bought a copy this week in his local Giant grocery supermarket, so copies are definitely available.
LIVE RADIO CLASS IN VIRGINIA - Club Member Al Smith brings this to our attention: Here's an offering by the Adult and Community Education section of Fairfax County, VA Public Schools. The class is titled "Readers' Theater: Radio Classics." It is being held on Saturdays at Fairfax High School starting at 12:00 PM. It begins July 12, and the instructor is Ted Mosser, a local hobbyist. The tuition is $49 and is for a total of 6 hours in length. Anyone wishing to register can do so by phone, 703-227-2377. MasterCard or Visa is acceptable. The class description is as follows:
"Have fun listening to a great old time radio show; then take a
part, and read the script aloud, and create sound effects for a
recording. Scripts include The Missing Sparkler, Only The Dead Die
Twice, The Canterville Ghost, and the War of the Worlds. 2 sessions, 3
hours each."
BOOK BARGAIN - "The Encyclopedia of American Radio: An A to Z Guide" by Ron Lackmann (Facts on File Publishers), which originally retailed for about $ 60, is now available from Edward R. Hamilton, Booksellers for $ 9.95 plus postage. This very large (8 X 11) book has 370 pages of synopses of programs, broadcast histories, biographies of cast and crew members, from the soaps to the adventure shows to the news programs. Numerous B&W illustrations. Note: This is an updated (and more accurate) edition of Lackmann's first one, called "Same Time, Same Station." For more information, go to www.EdwardRHamilton.com
LOOKING FOR RADIO VOICES IN MARYLAND REGION - The fifth annual "Maryland Day" will be held on the campus of UM at College Park, MD on the last Saturday in April, the 26th. The entire campus will feature free events in a day of learning, exploration, and fun. The public is welcome to all events, which will include kayaking, movies, lectures, demonstrations, hands-on crafts, music, refreshments, dance groups, sheep shearing demonstration, horseback riding, paint your own toy terrapin, examine documents relating to Amelia Earhart on loan from National Archives, and about 80 other scheduled events of interest.

One activity that caught our eye was "Perform Your Own Radio Show" which will be held all day, 10 AM to 4 PM in the Library of American Broadcasting, 3rd floor within Hornbake Library. Description of event reads: "Bring your best radio voice. Scripts, microphones, and sound effects will be provided. Participants will be given a tape of their radio debut." For more details or additional information, go to www.marylandday.umd.edu or phone toll free, 877-UMTERPS.
February 2003
Your editor is in the research phase of my new book on Radio's Lady
Detectives and data is still slim on some obscure shows. If you have
any audio copies of, or scripts, or background data on any of the
following series, please advise your editor:

Murder & Mrs. Chase ABC 56-57
Helen Holden, Government Girl Mutual 41-42
Hot Copy NBC 41-44
Lady of the Press (Sandra Martin) CBS 44-45
Policewoman ABC 46-47
Lady In Blue NBC 1951
Crime Files of Flamond Mutual 46-48, 1953 and 1956-57
Michael & Kitty NBC 41-42
Two On A Clue CBS 44-46
December 2002
Jack French shared with us some photos from FOTR (Friends of Old Time Radio) Newark conventions. Click on any photo for a larger view.
| | |
| --- | --- |
| Cast and crew of re-creation: "Voyage of the Scarlet Queen." L to R: Frank Bresee ("Ray"), Soundmen Robert Mott and Bart Curtis, Jack French (Director), Beverly Garland ("Alice"), and Bill Owen ("Phil Carney"). Blonde seated in front of Owen is Barbara Watkins of SPERDVAC. (Newark FOTR Convention, October 2002) | |
| | |
| --- | --- |
| | Club President, Lennell Herbert-Marshall, and Editor Jack French, enjoy a recent FOTR Newark Convention. On behalf of the Friends of Old Time Radio, Lennell had just presented Jack with his plaque, honoring him as the recipient of the Allan Rockford Award. This award is bestowed annually upon the person in the United States who has made the most significant contributions to research on the Golden Age of Broadcasting. Jack's numerous well-written articles in several OTR magazines throughout the country were cited in giving him the Rockford Award. |
| | |
| --- | --- |
| Adam and Carole Roslewicz, MWOTRC members, had the winning auction bid for the script of "Voyage of the Scarlet Queen," autographed by cast and crew. Carole pays Jeff Muller, who has just delivered the script to her table. Adam and Carole live in Washington, NJ. He is the Puzzle Master for RADIO RECALL. (Newark FOTR Convention, October 2002) | |
| | |
| --- | --- |
| | A "Bobby Benson" re-creation with Jack French, Earl George, Ruth Last, and Fred Foy. Earl George acted in several episodes of "Bobby Benson" at Mutual's WOR in the early 1950s. Fred Foy never appeared on this juvenile western show, but is famous as the voice of the announcer on WXYZ's "The Lone Ranger." Ruth Last, while seldom acting in western radio shows, had a busy career acting before the microphone in numerous East Coast national programs, and continues to be active today in voice-overs and commercials. |
October 2002
You are reading this paragraph on the new MWOTRC web site, which can be found on the World Wide Web at www.mwotrc.com and also (simulcast) at www.radiorecall.com. Please bookmark it in your computer, and mention it to your friends! You may send updates, corrections, or additions to your editor or webmaster.
For the first time in the history of the club, we will have an index for Radio Recall. A new member from Texas, Elizabeth Minney, has volunteered to undertake this vital task. She has experience in this field, having done the full index for Martin Grams Jr.'s book "Invitation to Learning."
We keep reminding members that we need your current email addresses in our records. However, with every cyber communiqué sent by the club, a few bounce back. If you've made a change, please send us your new email address, and please mention your old address as well so we can delete it from our records.
See also: current news; news from 2004; news from 2005