MWOTRC News from 2004
See also: current news; news from 2003-2002; news from 2005
November 2004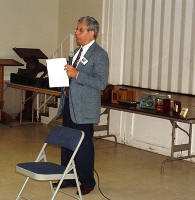 Mr. Brian Belanger, Curator, Radio-Television Museum of the Radio History Society, Bowie MD, speaks to members of the Metropolitan Washington Old Time Radio Club at their November meeting.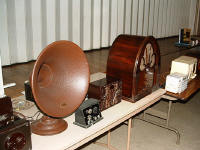 A few of the amazing collection of antique radios Mr. Belanger brought to the presentation.

October 2004
Several club members were honored at the 2004 Friends of Old Time Radio 29th annual convention. This is the East Coast's largest and best vintage radio convention with dozens of OTR stars in many recreations. OTR dealers with tapes, books, CDs, scripts autographs, premiums, and videos. Hourly seminars on a host of OTR related topics by experts. More info...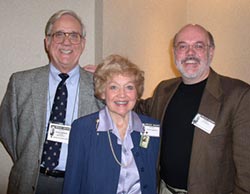 Two MWOTRC members pose at 2004 FOTR Convention with Shirley Eggleston, OTR and TV star. Jack French (left) of Fairfax VA, and Jim Widner (right) of Dayton OH, the webmaster of www.otr.com.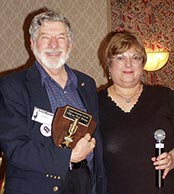 Left: Mr. and Mrs. Fred Berney were given an Allen Rockford Award, a tribute to their selfless volunteering for the past several conventions in recording and videotaping all convention seminars, panels, and recreations.

Below: Richard Olday, Jack French, and Derek Tague participate in a panel discussion. (Click on any of these pictures for a larger image.)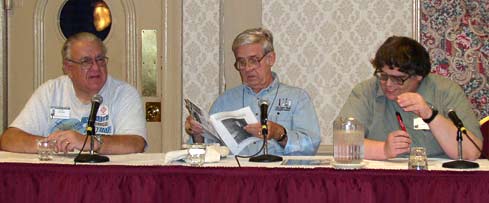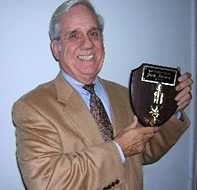 Radio Recall editor Jack French won the Ray Stanich Award for the person who has contributed most significantly to our OTR literature through books, articles in OTR
magazines, as well as those posted on the Internet.

July 2004
THE MOUNTIES ARE COMIN'

Our program for the monthly meeting on Friday, July 9th, held in Trinity Church Hall, was on the history of OTR shows that had a Royal Canadian Mounted Policeman as the hero. That would include Renfrew, Sgt. Preston, and King of Royal Mounted. Our presenter was originally from Escanaba, MI, about 40 miles from the Canadian border. Excerpts from several U.S. and Canadian radio programs of the Golden Age of Radio were played during this presentation.

SWAP MEET RETURNS

Michael Henry notes that our July monthly meeting also included a "swap meet" where any member or guest can bring OTR items from home or work (tapes, books, videos, radio premiums, scripts). These events are always popular and we try to hold them once or twice a year, with tables available where all can buy, sell, or trade these treasures.
February 2004
MWOTRC OFFICERS ELECTED FOR 2004
The following officers were elected for the year 2004: Chuck Langdon, President; Michael Henry, 1st Vice President; Sedgwick L. Moss, 2nd Vice President; and Lennell Herbert-Marshall, Treasurer. There are a number of key volunteers who are not elected, but who also serve on our Board of Directors. These include Membership Coordinator Maury Cagle, Audio Librarian Rebecca Jones, Print Librarians Mark and Marsha Bush, and editor Jack French. Contact information on each of the above can be found on page 2 of every issue of RADIO RECALL, and on our Contacts page.
MWOTRC NOW HAS AN ARCHIVIST
At our February monthly meeting, Michael Hayde volunteered to be the archivist for the club. His duties will include compiling historical materials of the club, including news articles, pictures, and other documents. Michael's background is particularly suited to this position as he is a published OTR author and also has done archival work in private industry. One of his first projects will be preparing a history of the club, in connection with our 20th anniversary this year. Any members who have materials relating to the club can make them available to Michael at any monthly meeting. You may contact him at mmeajv@msn.com to make other arrangements.
CINCINNATI OTR CONVENTION APPROACHING
The 18th annual OTR & Nostalgia Convention will be held on April 16-17, 2004 at Cincinnati, Ohio. The new site is the Best Western Hotel on Sheraton Lane (Reservations at 517-671-6600) where single or double rooms are only $65. A group of OTR stars will be on hand for re-creations, panel discussions, etc. including Bob Hastings, Rosemary Rice, Hal "Jughead" Stone, Will Hutchins, Esther Geddes, and John Rayburn. Additional entertainment by the Boogie Woogie Girls (who do the Andrews Sisters songs) and the Blue Cole Trio. Admission is only $7 a day and the banquet Saturday night is an additional $31. Convention registrations are now being accepted at 10280 Gunpowder Road, Florence, KY 41042. For additional information, phone convention host Bob Burchett at 888-477-9112 or email him at haradio@hotmail.com. Don't miss the Midwest's best OTR convention!
See also: current news; news from 2003-2002; news from 2005