---
WAMU CD project: Remember The Joy Boys, Volume Two
You can now hear all four of the "Remember the Joy Boys" CDs on our YouTube channel. Enjoy!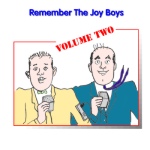 Production is complete on Remember The Joy Boys, Volume Two! Click on either photo to see a closeup of the front and back cover artwork.
For this collection, we chose some of the favorite characters which didn't appear on Volume One. You'll hear Randolph W. Goon, Sammy Skin, Great Moments in History, The Loan Arranger, Charles, Miss Janitor, the Round Table of Knowledge, and the Unmentionables.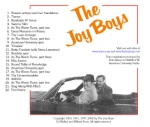 In addition, this CD includes WWVO and a complete five-part serial of As The Worm Turns, plus guest appearances by singer Steve Lawrence, and "sing along with" Mitch Miller. All of this, of course, with Ed and Willard introducing each piece. Click the selections below to hear a few moments from the CD.

Intro to the CD (MP3 file, 187K)
As The Worm Turns intro (MP3 file, 236K)
Rambler spot (MP3 file, 138K)
Click on these links to read more about Volume One, Volume Three or Volume Four of this collection.
---
Home | History | Audio | Pictures | Tales | Links | Contact Us