---
WAMU CD project: Remember The Joy Boys, Volume Three
You can now hear all four of the "Remember the Joy Boys" CDs on our YouTube channel. Enjoy!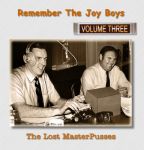 Our third Joy Boys collection is called Remember The Joy Boys, Volume Three, subtitled "The Lost MasterPusses." Click on either photo to see the front and back covers.
This time we included lots of the commercial bits which made even Joy Boys sponsors fun to listen to. You'll hear Kirby Dodge, the Olde Club Restaurant, Citizen's Bank, and the Old Stein. We also have a series which ran on WRC and again on Public Broadcasting: MasterPuss Theatre's Six Wives of Henry VIII.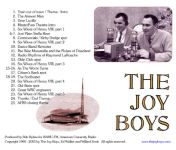 Some of the other vintage Joy Boys bits on this CD: Two advice columnists of the air, the Answer Man and Dear Lucille; As The Worm Turns; Stella Bear; the Sodbuster; and finally, two dance band remote broadcasts from Pee Wee Mozzarella and Raymond LaRoache.

Click on these links to read more about Volume One, Volume Two or Volume Four of this collection.
---
Home | History | Audio | Pictures | Tales | Links | Contact Us