---
WAMU CD project: Remember The Joy Boys, Volume Four
You can now hear all four of the "Remember the Joy Boys" CDs on our YouTube channel. Enjoy!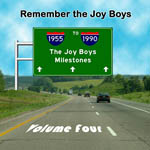 Our latest Joy Boys collection is called Remember The Joy Boys, Volume Four, subtitled "Milestones." Click on either photo to see the front and back covers.
For this CD we compiled some very special clips from all through the Joy Boys history book: their first and last shows on WRC, a Doll House broadcast from the WRC lobby, and some bits and pieces from WWDC and WMAL. There's also an episode of As The Worm Turns, plus Ed Walker's Time For Music and Willard Scott's Compact Show. And to top it all off, an Eddie Leonard Sandwich Shop commercial!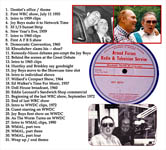 And while Joy Boys comedy bits didn't typically make history, they did mock history quite a bit. On this CD you'll also hear the Kennedy-Nixon debates, and Khrushchev's famous temper tantrum, all as told by Willard and Ed.

Click on these links to read more about Volume One, Volume Two or Volume Three of this collection.
---
Home | History | Audio | Pictures | Tales | Links | Contact Us